There is no price too great when it comes to the safety of your children. This car seat protector really adds to the grip of any baby seat with its design. The set features a grip vinyl on the front and a non-skid material grip at the back. This will reduce friction between the car back seat and the baby seat. It is incredibly important to have this as an extra precaution to avoid small shakes in the baby seat when having to hit the brakes or go over a bump on the road.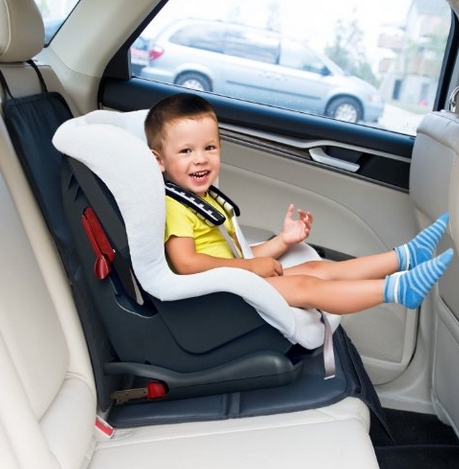 At the bottom it comes with pockets for various items, like baby bottles and napkins. It comes in handy to have extra pockets because you can never carry enough things when you have to worry about your kid. The seat cover is also water resistant to avoid any potential damage from spilling liquids. But most importantly, you will not have to worry about the baby seat moving enough to cause indentations or scratches.
As far as installation goes, this product literally takes minutes to install. The design is made so that it is compatible with both baby seats that face the rear or the front of your car. It is also wider than most baby seats so that will provide extra padded cover for your seats. The bottom of it folds which will protect the bottom of your back seat from shoe scratches and dirt.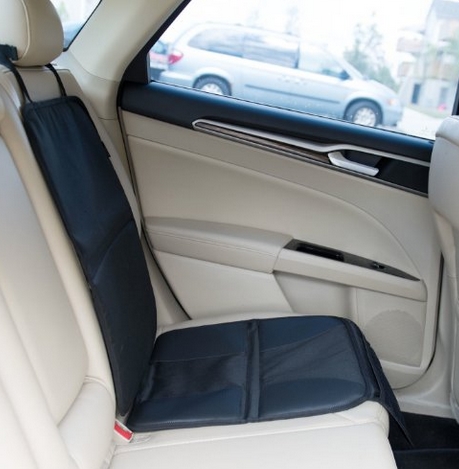 The color is black and you will find that it matches most car interiors without standing out too much. As a matter of fact, it even adds style to the car in comparison to the baby seat just being placed without anything between it and the seat. It is thick enough but still low profile so it is not creating any more cushioning than necessary.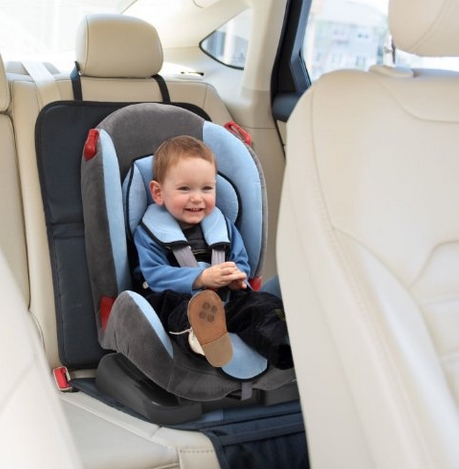 If you are concerned about safety, quality and design, this product carries all three values. Its asking price is very modest for the quality of the product, because it is very sturdy and will help keep your baby seat locked in place while protecting your car seats from scratches and dirt simultaneously.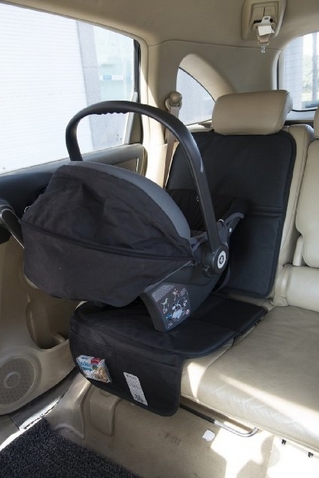 To wrap things up, this seat will provide you with an excellent grip support for your baby seat, and add extra pockets at the bottom of storage. The folds are well done and help make installation a breeze. You will not struggle through instructions as the product comes as a one piece item, ready to be installed. Its length and width is enough to protect the bottom of your back seat as well as the sides next to the baby seat. It is very light weight, and yet sturdy enough to provide long term protection. Your child will most likely outgrow their baby seat by the time you'd have to replace the seat protector, if ever. It works with all cars and baby seats, which is why AutoMuko's baby seat protector stands out from the other brands.