If you take price as a major thing in considering which seat covers to get these are the nice choice for your car. They look much better than any old fashioned covers or blankets used for that. These covers are manufactured from out of thin nylon polyester material and is backed by some sponge. The front seats are easy to put them on because they are only 1 piece each. There are no holes for the seat belts so you have to do the modifications yourself. The rear seat contains of 2 pieces – one for the backrest and other for the bottom part.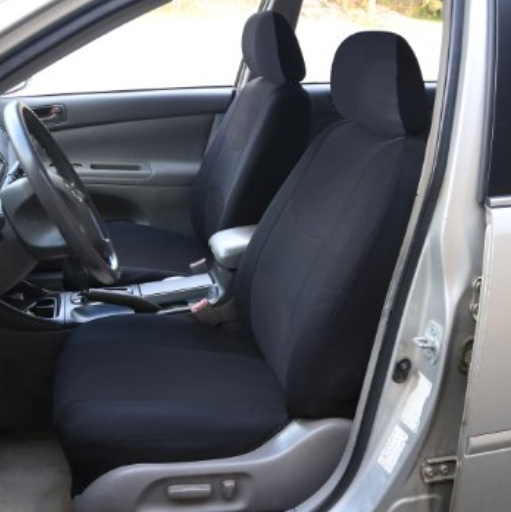 At first I was a little hesitant about trying these, because their cheap price made me curious and I had doubts, so I wondered if they are any good at all. But at the end it turned out they are good at the price they are being sold. They require a little work from your side if you want them to fit tight, it took me an hour to put them on, but the best thing is that they look great and refreshes the interior of an old car very well.
If you have a really basic car with worn out seats and you are looking for upgrade – this is an answer to your needs, they fit tight and looks nice.
You should also make sure that your headrest part of the seat can be detached or you won't be able to put this setup on. Also you should know that these covers do not support seats with front side airbags and rear split function.
Dimensions
Front: 20.5 x 20.5 inches
Front backrest: 27×21.5 inches
Rear seat: 52×26 inches
Rear backrest: 52×32 inches
Get yourself these if you want discounted seat covers that would break you from monotonous look and get yourself bold design. These will truly inject a new life and fun to your vehicle if you decide to try them. Tons of color choices are available to fit every need speaking about coloring. The material they are made from is breathable and machine washable, this makes it easy to maintain them. Full set contains of 2 headrest covers and one solid bench for rear seat.
They are made in China and that is why quality is not at it's top, but the price makes this product a nice choice if you are looking for something to refresh your car interior.